Euro, main Spanish stock index drop, risk premium rises after Rajoy announces article 155
ELNACIONAL.CAT – The Euro has weakened slightly against the dollar to 1.1766 dollars
The announcement by Mariano Rajoy's government that they are moving ahead with applying article 155 of the Spanish Constitution and revoking Catalan autonomy is starting to also have effects on the economy nationally and internationally: the Euro has gone down, the IBEX (benchmark Spanish stock index) has dropped and the Spanish risk premium has risen. That last had hit 127 points by 10:40am, just 50 minutes after the Catalan president, Carles Puigdemont, replied to the letter from Rajoy warning that if they went ahead with suspending Catalan autonomy, the Catalan Parliament would take the vote on independence it didn't take on 10th October. Within half an hour, Rajoy had nonetheless threatened back that they would start the procedure to activate article 155 this Saturday.
The Spanish risk premium opened at 8:20am this morning at 124 points, after closing at 123 yesterday, and rose to 127 after the exchange of letters between the leaders. One hour later, however, it had returned to its opening level, before adding another point at lunchtime.
In fact, even on the 10th October, the day that Puigdemont declared and immediately suspended Catalan independence, it didn't rise to the level it hit today. The maximum that day was 126 points. On the 2nd October, meanwhile, the day after the referendum, it was at 123 points and the next day, 3rd October, the day of the Catalonia standstill, it rose to 125 points. The most critical day was the following, the 4th, when it climbed to 132 points.

As such, this is the second time since the Catalan Parliament passed the laws for the referendum on 6th and 7th September that the risk premium has risen so high. In fact, it had never reached such levels before 2nd May this year, when it reached 134 points.
Red numbers
The IBEX, the benchmark index of the Bolsa de Madrid, Spain's main stock exchange, opened at 9am in the red, with almost all its stocks falling around 0.1%. By 9:40am, however, with just minutes left in the deadline Rajoy had given Puigdemont for his reply, a sharp fall of 1% had started. This lasted until 10:25am, after the Spanish government's threat to start the process of applying article 155. After 10:30am, it has remained in the red, but has stayed more stable.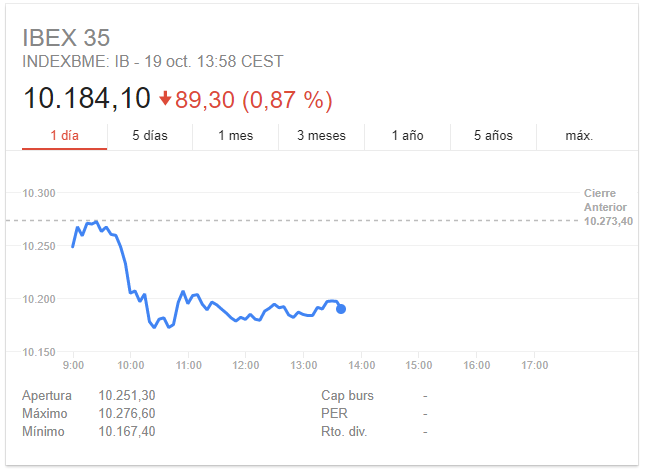 The Euro, meanwhile, has weakened slightly against the dollar to 1.1766 dollars, after being at 1.1787 at closing yesterday. The yield on Spanish bonds, on the other hand, rose to 1.656%, after opening at 1.623%.
The situation on the Spanish stock market has ended up also affecting the European markets, an unusual occurence. EuroStoxx, Frankfurt and Paris were all down 0.90%, London 0.60% and Milan 1.28%. The losses contrast with the euphoria of recent weeks, marked by the records seen on the US stock market.
Original article: http://www.elnacional.cat/en/news/euro-ibex-risk-spain-catalonia-155_203574_102.html19